Ashour's VS2 Shoes Dryer - Intelligent Sterilization & Constant Temperature Shoe Dryer
---
---
Regular price
$39.00 USD
Sale price
$25.95 USD
/
Size chart
Take a look at the table below to know your exact measurements in mm/cm
*NOTE. this is the default size chart to use in the case that there is not a size chart present in the product's description. Please check the product description for a model specific chart.
Men
Women
For Ashour's Shoes models that do not have the half size available, we suggest you to add 1 extra size.


Ashour's VS2, An Intelligent Shoe Dryer & Deodorizer
Our shoes dryer is different, it is equipped with 1532 heat units, to guarantee that your shoes, boots or gloves are dried and sanitized as quickly as possible simply plug it in and wait for the drying process to finish. and enjoy your dry and fresh shoes
Eliminates Odors
Our shoes dryer uses a  durable PTC ceramic heating technology, the core temperature of up to 150 ℃, through the continuous high-temperature drying to destroy the living environment of bacteria, to achieve the effect of anti-bacteria deodorant.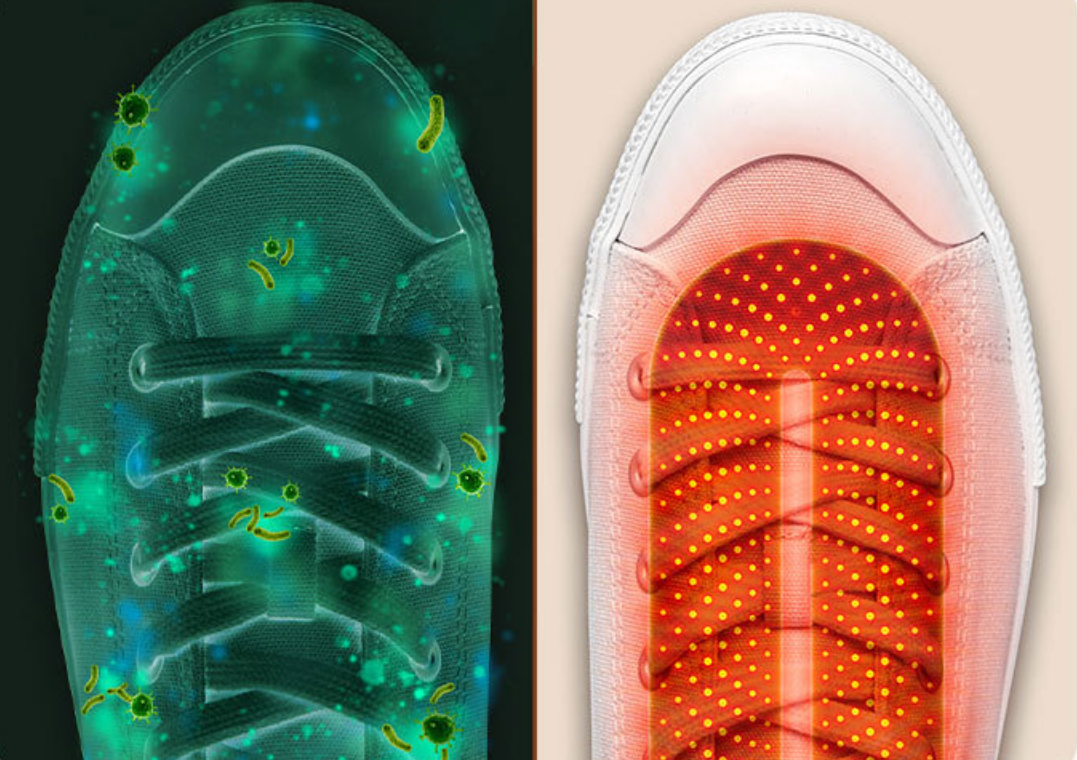 Ease of Use
Put the shoe dryer in you shoes, boots or gloves and plug it in. Set the working time mode and let it does the rest.
If you need to turn off the shoes dryer, simply unplug it. The shoe dryer is a great helper and household essentials for your needs in winter or on rainy day
Annular Heating
1532 HEAT DISSIPATION HOLES
With annular design, this dryers can evenly dissipate heat.
Two heating elements are on its two sides, a ring-shaped warm air flow is formed in the shoe space, quickly restore the wet shoes to dryness.
Fire Resistance
The shoe dryer is made of ABS UL94 V0 flame-retardant material. High-temperature compression and resistance, not easy to burn and deform during use.
Keep your feet warm with the Intelligent Auto Timer
Set the timer to start warming your shoes before you put them on, so you can say goodbye to cold feet!
Time settings: 3H / 6H / 9H auto-shutdown according to your needs.
Low power consumption, stable performance, suitable for normal shoes or walking shoes, cloth shoes, boots, rain boots, gloves, socks, etc.
We use classic men's footwear sizes. If you wear brands such as Church's, Tricker's, Alden or Allen Edmonds, all you have to do is choose the number you usually use.

It's easy to find your size with our guide. Click Here What if the size isn't right? No problem, returns are easy and free.

DO YOU HAVE A HIGH INSTEP OR A PARTICULARLY WIDE SOLE?
Add half a size to the number indicated in the table. For Ashour models that do not have the half size available, we suggest you to add 1 extra size.
Just one more tip: the single buckle and double buckle models may not be as comfortable for a foot with a high neck or wide sole.

A VERY SKINNY FOOT? Take a size less than the number indicated in the table. Click Here

For all laceless models, loafers included, try to buy a heel saver to put in your shoe: it will help you find your comfort.
For Men: Ships worldwide
The shipping time is typically between 5-10 days depending on your location. Get a compensation for late shipments
Most of our shoes are handmade to order (in 3-5days) this way we can guarantee exceptional quality for every item.
Get your money back if the item is damaged or different from the pictures or the description
For Women: Most items ship to the US only
(scroll down for men) Fast Shipping. 3-5 days in the US, unless stated otherwise in the shipping selection at checkout. 7 Days Return policy
Other Products: Shipping : 7-14 Days
*We offer Free returns on some items. Contact us if you have any questions.